< Back to News & Insights
Simple & Safe Strategies to Help You Win in a Seller's Market
Rodd Miller, CMA,
Branch Manager/ Sr. Mortgage Advisor/Reverse Division Manager
June 5, 2023 — 6 min read
There's a 2,000-pound gorilla standing between you and your future home—so, why aren't we talking about it?
It may seem bananas, but there's a shortage of houses available for purchase right now, and it's making first-time buyers and those with a limited budget beat their fists against their chests. Here's why:
Typically, in a low inventory housing market, sellers charge more and buyers have fewer choices. This forces buyers to act quickly or risk losing out. However, there are simple and safe steps that first-time buyers and those with a limited budget can take to win in a sellers' market.
From getting pre-approved for a mortgage, to increasing your down payment or taking advantage of down payment assistance, we're sharing knowledge and resources you need to navigate the current market with confidence.
Why Is Housing Inventory Tight So Right Now?
In general, the housing inventory shortage can be attributed to two significant factors:
The construction industry is falling behind and you're paying the price. Construction companies built a surplus of new builds while the housing market recovered from the 2008 crisis; this caused home values to plummet, and in the aftermath, those same actors have struggled to pick up the pace.
The coronavirus pandemic sparked a homebuying frenzy. Many people spent more time at home during the pandemic, and as a result, decided to purchase a home to meet their changing needs. Additionally, historically low mortgage rates made homeownership more affordable and attractive. However, the surge in demand coupled with the already limited housing supply led to a significant decrease in available homes.
Currently, there's only about a 2.6-month supply of available houses on the market, according to the National Association of Realtors; that's far less than the 6-month supply recommended to sustain a healthy or neutral market that satisfies buyer demand.
Thankfully, while predictions vary, experts believe housing inventory will rise by more than 20 percent this year over last.
Buyer's Market vs. Seller's Market: What's the Difference?
When there are more homes available than interested buyers, you have the upper hand in negotiations, making it an excellent time to snag a deal; on the other hand, in a seller's market, sellers are in the driver's seat. With more buyers vying for limited homes, sellers can dictate the terms and prices tend to rise. Knowing the difference between the two can help you strategize your approach and achieve success in the housing market.
Homes sell more quickly in a seller's market, and because buyers are competing over the same properties, sellers may increase asking prices.
In a buyer's market, homes are on the market for longer periods and real estate prices drop; essentially, sellers are competing with one another to attract buyers.
Strategies to Help You Win in a Seller's Market
Sellers may have an advantage right now, but that shouldn't stop you from achieving your dream of owning a home—in fact, there are a number of simple steps you can take to increase your chances of success in a competitive market.
Get pre-approved. One of the most important things you can do is to get pre-approved for a mortgage before you start searching for a home. This will give you a clear idea of how much home you can afford and demonstrate to sellers that you are a serious buyer who is ready and able to make a purchase.
RELATED: The Power of Pre-Approval: How to Make Getting a Mortgage Easy and Safe
Increase your down payment. If you can make it work, increasing your down payment is another effective way to stand out in a competitive market. Not only will a larger down payment demonstrate your financial stability and commitment to the home buying process, but it can also help you secure a more favorable mortgage rate.
RELATED: Everything You Need to Know: Using Gift Funds for a Down Payment
Purchase a starter home. Purchasing a starter home can be a smart move in a seller's market. While it may not be your dream home, a starter home can be a more affordable option that allows you to enter the market and build equity over time. By taking this approach, you can potentially benefit from rising home values and eventually trade up to a larger, more desirable property.
RELATED: Your Guide to Using Home Equity to Build Wealth and Achieve Your Goals
Expand your search area. If you feel frustrated by the number of homes available in your area, it may be worth expanding your search radius into nearby neighborhoods or adjacent cities. If you choose to do this, be sure to factor in the additional costs of commuting or moving to the new area; this may include transportation expenses, higher utility bills, and other potential lifestyle changes.
RELATED: Suburbs vs City: Where is the Best Place to Raise a Family?
Consider a fixer-upper. While it may seem daunting, purchasing a home that needs some love can be a smart strategy in a seller's market. These homes often sell for less than move-in ready homes and can be a great opportunity to build equity through home improvements and renovations. When considering a fixer-upper, it's important to have a clear understanding of what needs to be done and what it will cost. It's also crucial to have a realistic budget and timeline for the renovations, as well as a plan for how you will finance the work.
RELATED: Want to Finance a Fixer Upper? Pros and Cons of a 203K Rehab Loan
Consider new builds. In a seller's market, purchasing a newly constructed home can be a great option. New builds often come with energy-efficient features and warranties, which can save you money in the long run; additionally, some builders may offer upgrades to attract buyers who are on the fence. If this sounds like a good option for you, consider using RateSafe, our rate lock program, to lock in a mortgage rate for up to 120 days* while the come is under construction, with the option to float down if market rates decline.
RELATED: Should I Lock My Mortgage Rate Today? Knowledge Is Key
Let's Make Your Homeownership Dream Come True!
When it comes to helping you take a confident next step, we're not here to monkey around—if you have questions or are interested in learning more, reach out to your neighborhood Mortgage Advisor today, or check out our blog page.
Categories
Archives
Recent Posts
Getting started >
You bring the dream. We'll bring the diagram.
There's a financing solution for just about every situation.
Let's go get it

What our clients say >
I felt like I was treated like family, great communication and helping me with any questions I had.
Testimonials

Getting started >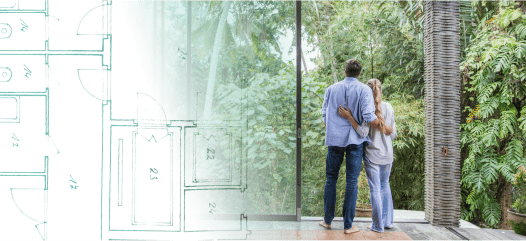 You bring the dream. We'll bring the diagram.
There's a financing solution for just about every situation.
Get started

Find an advisor >
Where does your sun shine? Find your local advisor.
Enter your city or state to see advisors near you.
Find advisor

Careers at PacRes>
We're growing. Grow with us.
Careers at PacRes reward excellence in mortgage banking.
Build a better tomorrow