< Back to News & Insights
Money Matters: Funding Options for Your Home Improvement Project
Carlos Pinto,
Mortgage Advisor
August 23, 2021 — 8 min read
Whether big or small, there are likely a few projects that need to get done around your home. Whatever the task, you need money to do it right. If you're short on cash, there are several financing options available to you. The best type of loan for you will depend on your finances. It can be tedious and time-consuming to navigate the differences, so we've made it easy. This brief guide will introduce you to everything you need to know to make a confident financing decision.
What Are My Options?
Like all tough questions in life, whether or not you choose to finance your home improvements is up to you; if you decide that financing is the way to go, there are a number of options.
1. Cash-Out Refinance
With a cash-out refinance, you refinance your mortgage and remove money at closing to cover the expenses of your home improvement project. This is a good option if you are able to reset your loan at a lower interest rate than your current mortgage. To qualify, you'll need to have equity in your home. To determine your home's equity, subtract the amount you owe on all loans secured by your house from its appraised value. Remember, if you choose to a cash-out refinance, you will need to pay for an appraisal, origination fees, taxes, and other closing-related costs; also, unless you refinance your mortgage for a shorter term, you will extend the life of your loan.
Advantages of a cash-out refinance:
The money you receive comes from the home equity you've built.
You'll continue to pay one monthly mortgage payment.
You can spend the money on anything you want.
You can lower your interest rate or loan term at the same time.
Disadvantages of a cash-out refinance:
You have to pay closing costs if you're borrowing a large amount of money.
Your new loan will have a larger balance than your current mortgage.
If you choose to refinance, your loan will start from scratch.
2. Home Equity Loan
Sometimes referred to as a second mortgage, a home equity loan borrows against the equity that you have built up in your home. When you take out a home equity loan, you'll receive the money as one lump sum of cash, which is great if you have a big, one-time project. Similar to a fixed-rate mortgage, you'll make monthly payments on this loan over the course of several years. It is a secured loan, meaning you may be able to get a lower interest rate than some other options available to you; however, this also means you're putting up your home as collateral.
Advantages of a home equity loan:
Because you receive the money as a lump sum, it's a great option to fund big projects.
Interest rates for home equity loans are typically fixed.
Your loan terms can last from five to 30 years.
You are allowed to borrow up to 100 percent of your equity.
Disadvantages of a home equity loan:
If you still owe money on your original mortgage, this option adds a second monthly payment.
Most institutions will charge you for origination fees and other closing costs.
You're putting your home up as collateral.
3. Home Equity Line of Credit (HELOC)
Home equity lines of credit (HELOCs) are a great option if you are taking on a long-term or multi-phase home project. HELOCs are a variable-rate line of credit that is based on your home's value. It's a revolving credit, meaning you can take what you need when you need up to your borrowing limit, pay it back, and borrow from it again. If you choose to finance through a home equity line of credit, keep in mind that it is a secured loan. You can qualify for lower interest rates, but if you miss your payments, your lender has a legal right to repossess your property. Before relying on a HELOC, be sure you understand the terms of the loan and can make your payments on time.
Advantages of a home equity line of credit:
Most HELOCs come with no closing costs.
Your payments will vary depending on the amount you borrowed.
Since you have a revolving balance, it means you can reuse the funds after repaying.
Disadvantages of a home equity line of credit:
Your loan rates could be adjustable, which means your rate and payment can go up.
HELOC rates are generally higher than for home equity loans.
Your bank or credit union could change your repayment terms.
4. Personal Loan
If you need to make an emergency repair, like fixing a broken water heater, this is a great option. It offers quick access to funds and it is unsecured, meaning you won't have to offer your home as collateral. It's also a more accessible option for people who haven't built equity in their home. Personal loans are structured according to your lender. Your lender will consider your income and credit history, among other factors, to determine the amount you can borrow. When you take out a personal loan, you'll have a specific amount of time to pay it back; once you pay it back in full, your account will be closed.
Advantages of personal loans:
Personal loans typically have a fast application process.
You will have access to your funds quickly--possibly the same business day.
You won't have to put up your home as collateral.
Great for repairs that need immediate attention.
Disadvantages of personal loans:
Your loan rate will be determined by your credit.
Your borrowing limit is lower than some alternatives.
Your loan repayment terms are shorter.
Personal loans often come with expensive late fees.
Some personal loans have prepayment penalties.
5. Credit Card
If you have a high enough limit, credit cards are a quick and easy financing option. They don't require you to take out a new loan, so there is no application necessary. Plus, many offer great rewards, so the more you spend, the more cash back you could earn if your credit card offers cashback perks. If you go with a home renovation loan, you'll gain much longer repayment terms and a steady monthly payment amount; however, credit cards usually have much higher interest rates than other types of loans. They might not be the best option for financing a large home renovation like a complete kitchen remodel. Also, consider that while home improvement stores might take plastic, many contractors don't--and if they do, they might impose a surcharge, possibly eating into your cashback perks. Like personal loans, credit cards are a great option if you have immediate repairs that need to get done. They're probably not the best option for long-term financing.
Advantages of using a credit card:
Credit cards are quick and easy to use.
There is little to no paperwork involved.
There are no interest options available.
Disadvantages of using a credit card:
Interest rates are typically much higher than other financing options.
Your credit card limit could be lower than your home improvement budget.
6. FHA 203(k) Rehab Loan
Government-issued loans come with great benefits, likes a low-down payment and the ability to apply with not great credit. If you qualify, you could save on interest and insurance, too. One type of government loan is an FHA 203(k); this loan permits the borrower to take out one loan for the purchase and renovation of a primary residence.
203(k) limited loan:
This will provide up to $35,000 for renovations. Major structural repairs are not eligible.
203(k) standard loan:
For this loan, major structural repairs are eligible, and renovations must cost at least $5,000; borrowers must hire a HUD consultant to oversee the renovation process. Government loans are a great option if you're buying a fixer-upper and know that you'll require financing for home repairs or improvements. Take note, however--the money you borrow must be put toward a renovation that improves the livability of the home.
According to the U.S. Department of Housing and Urban Development
, eligible projects include:
Eliminating health and safety hazards.
Installing or repairing the roof, gutters, and downspouts.
Installing or replacing the flooring.
Improving major aspects of landscaping
Making a home more energy-efficient
Ensuring home accessibility for a disabled person.
Improving a home's functionality or attractiveness.
Advantages of a 203(k) loan:
It has a low minimum down payment and credit score requirements.
It can be used to cover mortgage payments if your home is uninhabitable while being renovated.
It offers a lower interest rate than credit cards or personal loans.
Disadvantages of a 203(k) loan:
To be eligible, you must have FHA mortgage insurance.
You can't use this financing option for investment properties.
You may be required to hire a HUD consultant.
There are a variety of good plans for financing home improvements on reasonable terms. What kind of loan is best for you will depend on the amount of money you need to borrow. To select the best option, you will need to examine your current situation closely and study your loan options carefully. Still have questions?
Our Mortgage Advisors are here to talk with you about your finance goals and help you make a confident decision.
Get in touch with your local branch today.
Categories
Archives
Recent Posts
Getting started >
You bring the dream. We'll bring the diagram.
There's a financing solution for just about every situation.
Let's go get it

What our clients say >
I felt like I was treated like family, great communication and helping me with any questions I had.
Testimonials

Getting started >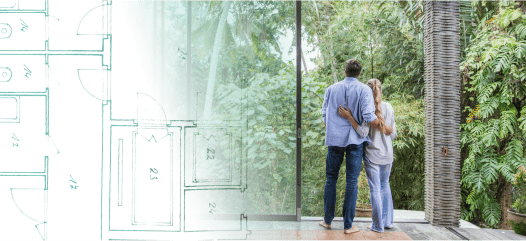 You bring the dream. We'll bring the diagram.
There's a financing solution for just about every situation.
Get started

Find an advisor >
Where does your sun shine? Find your local advisor.
Enter your city or state to see advisors near you.
Find advisor

Careers at PacRes>
We're growing. Grow with us.
Careers at PacRes reward excellence in mortgage banking.
Build a better tomorrow