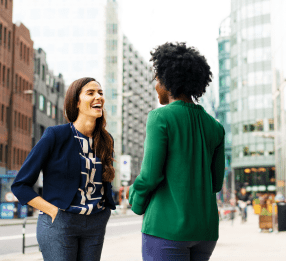 See what our clients say
We're proud to share our client reviews because top-notch service and commitment to your total financial health is the fingerprint of our work.
April 6, 2023
I went back to Elise and her team shortly after a most successful condo refinance I reviewed a few months ago. This time for a new home mortgage. Apples & oranges; no clue if they could get me financed in this nutso market and shine while doing so the way they did on the refi. Maybe they expended all their energy on that thorough, error-free transaction and had nothing left in the tank? Knew I was now a customer, so bare minimum is all that's necessary? That didn't happen. They carried themselves in the same professional, customer-focused manner as the first time. More importantly, Elise dug into interest rate details and every facet of the mortgage with tenacity, distilling key points for a layman like me down to basic blocks I could digest. Extra credit: Elise called me once - sensing I was not picking up the gist behind some of the mortgage costs (sure enough, I wasn't, and I'm sure it was painful for her). She spent 45 min explaining it to me like a child, until I got it... an impressive, unsolicited feat she didn't have to do. The financing went as promised - flawlessly. The money arrived when it was supposed to. Everything went according to schedule. And closing? That happened a week early, which was surprisingly awesome. I (again) learned a lot along the way - an incredibly nice bonus, free of charge. A++ effort, A++ results. The first time might be based on customer acquisition goals or mere chance. Second time, you know you have the real deal.
October 21, 2022
I felt like I was treated like family, great communication and helping me with any questions I had.
October 20, 2022
Chris is amazing. A magician if you will! He received my loan app from a previous lender who set me up for failure and he got the job done in a little over two week. I have already referred him to my family members!
October 20, 2022
We had a wonderful experience with David and will definitely use him again and refer him to all our friends and family.
News and Insights >
Pumpkin Spice & Property Price: The Difference Between Appreciation & Median Home Price
What's the difference between price appreciation and median home price? Learn how to maximize current...
More articles

Careers at PacRes>
We're growing. Grow with us.
Careers at PacRes reward excellence in mortgage banking.
Build a better tomorrow