< Back to News & Insights
Navigating Interest Rate Changes: How Realtors Can Help Clients Plan Ahead
Krista Madsen,
Mortgage Advisor
May 15, 2023 — 6 min read
Real estate professionals know better than most—interest rate changes can have a huge impact on a person's ability to secure financing for their dream home! Luckily, by providing the right resources and guidance, it's easy to help hopeful homebuyers navigate the world of interest rate changes and give them confidence and peace of mind. In recent years, the interest rate market has experienced significant fluctuations and changes. Keep these tips and strategies in mind to help your clients gain a deeper understanding of how interest rate changes may impact their mortgage payments and long-term financial goals.
What's Happening in the Interest Rate Market Right Now?
In 2022, mortgage rates spiked and monthly mortgage expenses rose by approximately 60 percent, according to experts; this was partly due to a pandemic-driven buying frenzy.
However, in late 2022 and early 2023, the rate market experienced a significant shift: the government raised rates to combat inflation, which caused a ripple effect in the market. Additionally, global economic recovery efforts led to increased competition for capital. Today, the market is still experiencing fluctuations, but nothing as dramatic as in recent years.
While some experts predict that interest rates may continue to gradually rise over the next few years, others believe they will stabilize or decrease. Regardless, for many buyers, it makes more sense to focus on current finances and long-term goals than trying to time the market.
The Impact of Interest Rates on Your Client's Ability to Secure a Mortgage
Higher rates may impact your client's ability to qualify
Higher interest rates can significantly impact your client's debt-to-income ratio, making it more difficult for them to qualify for a mortgage. This ratio is calculated by dividing your client's monthly debt payments by their gross monthly income. Higher rates may also increase the down payment required by the lender, which could be challenging for some clients to meet.
RELATED: Buying a House as a Single Person: Your Go-To How-To Guide
Higher rates may result in a higher monthly payment for your client
When rates rise, it may also result in a higher monthly payment for your client, which reduces the amount of money they can to borrow. That's because higher rates translate to higher costs for lenders, which trickles down in the form of higher rates for borrowers. On the other hand, when interest rates decrease, it makes financing more affordable and potentially increases your client's purchase power.
For example—say a client wants to purchase a $300,000 home and qualifies for a 30-year fixed with a four percent interest rate. In this scenario, their monthly payment would be around $1,432; however, if interest rates increased to 5%, their monthly mortgage payment would jump to around $1,610, an increase of about $178 per month*.
RELATED: Interest Rate Hacks to Help Reduce Monthly Payments
Tips & Strategies to Help Homebuyers Navigate Interest Rate Changes
To secure the best possible mortgage terms while navigating interest rate changes, hopeful homebuyers must take a few important steps; these steps are crucial for clients who are ready to purchase a home and can help ensure they make informed decisions throughout the home buying process.
Get pre-approved for a mortgage. Clients should get pre-approved for a mortgage before starting their home search to stay a step ahead of interest rate changes. This will give them better understanding of their budget and what they can afford in terms of monthly mortgage payments.
RELATED: Skip the Stress: How Pre-Approval Can Simplify the Homebuying Journey
Use RateSafe, our rate lock program. By locking in a rate, buyers can protect themselves against potential interest rate increases in the future. With RateSafe, clients can lock in a specific interest rate for up to 120 days, giving them peace of mind as they shop for their dream home. Click here to learn more.
Consider 2-1 buydown mortgages. Clients may want to use a temporary buydown to help them navigate interest rate changes; these mortgages allow buyers to pay a lower interest rate during the first few years of the loan, which can be a great option for those who need lower payments in the short term or want to have more money for renovations or other expenses.
RELATED: Buydown Mortgage vs. ARM: Which is Best in a Rising Rate Environment?
Consider adjustable-rate mortgages. To potentially save on interest rates, homebuyers could consider adjustable-rate mortgages (ARMs), which often offer lower rates in the short term. However, it's essential to understand that these rates are subject to change over time, which means the payments may increase. While fixed-rate mortgages provide stability, ARMs could be a great option for clients who plan to sell or refinance their home before the rate adjustment period.
Consider down payment assistance programs. Down payment assistance programs can be a great option for first-time buyers or those with limited funds for a down payment; these programs vary by state and locality, but they can provide financial assistance, grants, or forgivable loans that can help cover a portion of the down payment or closing costs.
RELATED: Buydown Mortgage vs. ARM: Which is Best in a Rising Rate Environment?
Consider the benefits of shorter mortgage terms. While a 30-year mortgage may seem like the most affordable option due to lower monthly payments, the interest charges over the life of the loan can add up. Encourage your clients to consider shorter terms, as they typically come with lower interest rates. This can help them save on interest and pay off their loan faster. However, it's important to keep in mind that this decision will depend on their finances and long-term goals. Be sure to discuss all options with them or encourage them to reach out to their neighborhood Mortgage Advisor for guidance.
Be flexible with the timeline. To increase the chances of finding the perfect home, it's important to advise clients to be flexible with their timeline. The homebuying process can be unpredictable, with delays and unexpected hiccups that can occur along the way; preparing clients ahead of time will ensure they are better equipped to handle them. Additionally, if your client is able to be flexible with their timeline, they'll be in a better position to negotiate and find their dream home.
Have a backup plan. Encourage your clients to consider having additional savings set aside or exploring alternative financing options, such as using a co-signer or co-buying. These options can help provide more financial security and flexibility in case of unexpected changes or obstacles.
RELATED: Buying a House with a Friend: Is Co-Ownership a Good Idea?
Ready to Help Clients Achieve Their Homeownership Dream?
Keep these tips and strategies in mind to help your clients navigate interest rate changes while homebuying with confidence and ease. Reach out today if you have questions, or click here to explore additional blogs for real estate professionals.
*actual monthly payment may vary slightly

Categories
Archives
Recent Posts
Getting started >
You bring the dream. We'll bring the diagram.
There's a financing solution for just about every situation.
Let's go get it

What our clients say >
I felt like I was treated like family, great communication and helping me with any questions I had.
Testimonials

Getting started >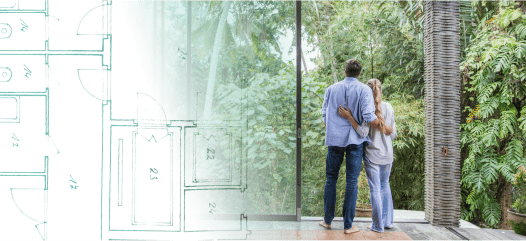 You bring the dream. We'll bring the diagram.
There's a financing solution for just about every situation.
Get started

Find an advisor >
Where does your sun shine? Find your local advisor.
Enter your city or state to see advisors near you.
Find advisor

Careers at PacRes>
We're growing. Grow with us.
Careers at PacRes reward excellence in mortgage banking.
Build a better tomorrow