< Back to News & Insights
Buying a House as a Single Person: Your Go-To How-To Guide
Jennifer Patronsky, CMA,
Branch Manager/Sr. Mortgage Advisor
April 3, 2023 — 8 min read
Buying and owning a house may feel like a tall order, but in the end, most people agree: it's one of the most rewarding purchases you can make! However, it's an expensive goal, and if you only have one income, it may feel like buying a house as a single person is an impossible feat. But owning a home isn't just for the married folk—it may be a bit more challenging than purchasing with a partner, but if you're ready to take the next step, you don't need to wait. So, what does buying a house as a single person look like, and what hurdles should you watch out for if you're buying a home on a single income?
The Pros & Cons of Buying a House as a Single Person
It's difficult to predict the future, but "single" is a status that could change. Even if you aren't planning on getting married in the near future and are content where you are, buying a house can still be a wise investment. Here are some important pros and cons to buying a house as a single person:
Advantages of buying a house as a single person:
As a single person, you have more freedom to make decisions for your home, as you only need to consider your own needs. Having a spouse or children can limit your options, as you must consider their preferences and requirements, which may narrow down the potential homes.
Selling the property may be more straightforward, as you will have fewer possessions to move; additionally, if you have a partner and you divorce, the house will be solely in your name, which may make the process less complicated.
Note: Divorce can be difficult and having the property solely in your name does not guarantee a simple process.
Disadvantages of buying a house as a single person:
When you're a single person buying a house, the funding is based on a single source of income. However, when a couple buys a property, both of their salaries are considered. This can be a disadvantage in case one of the partners lose their job or decide to leave the workforce, as it can put the family in financial difficulties.
Likely, your home will increase in value faster than the mortgage charges—however, homeownership may limit your finances, as you will have to keep up with the mortgage, taxes, and general maintenance. Being single affords you more freedom and flexibility, so buying a house can be seen as a commitment similar to getting married, as you may not be able to easily leave, and selling the house from a distance can be challenging.
First Steps to Buying a House on a Single Income
Build your credit. Your credit history is crucial in the mortgage lending process, particularly if you're applying as a single person, since the decision will be based on your information alone. To ensure a positive outcome, check your credit reports, maintain or improve your credit score, automate payments, keep your credit utilization low, and avoid taking out any new loans before applying for a mortgage.
RELATED: How to Build a Good Credit Score and Maintain It
Save for a down payment. Saving for a down payment on a home can be challenging for all borrowers, but there are loan programs available for buyers with low or no minimum down payments, as well as flexible income and credit requirements.
While these low-down payment programs share similar advantages, including secondary financing that can provide up to 105% CLTVs (Combined Loan-to-Value Ratio), there are important differences to keep in mind. If you have a question about a specific loan product, reach out to your local Mortgage Advisor here. Click here to review low-down payment options to help you make a confident next move, or see the graphic below.
Figure out your budget. Determine what you can afford before applying for a home loan, considering not only the loan amount approved, but also the realistic monthly payment, including routine home maintenance and repairs. To help stay within budget while searching for a home, make a list of your needs and wants, prioritizing the former and being realistic about the latter. This will help you approach your home search with a practical perspective and increase your chances of staying within budget.
Get a letter of pre-qualification or pre-approval. When buying a house as a single person, it's recommended that you a prequalification or preapproval letter. This will demonstrate to real estate agents and sellers that you are a serious buyer and that financing will not be a problem. Additionally, it may provide an advantage in a hot market by allowing you to react quickly. However, it's important to keep in mind: there's a difference between prequalification and preapproval. In general, while a preapproval is comprehensive and carries more weight, a letter of pre-qualification is faster and detailed process.
RELATED: Here's How We Make Pre-Approvals Quick and Easy
Tips for Buying a House on a Single Income
Keep your debt-to-income ratio (DTI) as low as possible. Your lender will use your debt-to-income (DTI) ratio—the percentage of your gross income that goes towards debt payments— to determine if you're able to afford a mortgage payment. To calculate your DTI, divide your total monthly debt payments (including the expected mortgage payment) by your gross monthly income. DTI requirements vary by loan type and lender; many lenders aim for a DTI ratio of 43% or lower, but higher ratios may be accepted in some cases.
Note: Your debt here includes things like car payments, installment loans, revolving credit, student loans, etc., and does not includes things like utilities, car insurance, and your cell phone.
Investigate if a multi-family home is right for you. For those who aren't especially familiar with real estate, you may envision images of in-laws moving in—or perhaps aunts, uncles, and the cousins, too! Luckily, that isn't necessarily what a multifamily home is; rather, it's a type of residential property that comprises of one or more housing units, and it can come in various forms. When buying a multi-family property, lenders will consider a portion of the projected rental income in determining your income, which can help you qualify for a larger loan.
Consider purchasing a home that is below your approved loan amount. Keep in mind that the amount preapproved by the lender is the maximum loan amount they will lend, but you can choose to purchase a home that is lower. This may help to ensure that you can afford the mortgage, if that is something you're concerned about down the road. To keep the purchase price low, consider factors such as property type, location, and other things that affect home price.
Related: 3 Genius Money Habits Help You Save for a House
Take Advantage of Grants & Alternative Loan Programs
If you're a first-time homebuyer, there are grants and programs designed specifically to help you get into a home. These programs may provide down payment assistance or funds to help with closing costs. Grants may only be available on the state and local level, but in most cases, the requirements will be similar.
You may want to look into an adjustable-rate mortgage (ARM) or a temporary buydown, depending on the market. With an adjustable-rate mortgage, you can lock into a lower rate than average for the first years of homeownership. For someone investing in a starter home who plans to move eventually, this may be extremely beneficial. If you expect your income to increase, a temporary buydown permits a lower initial mortgage rate for the first two years in order to help you ease into the role of homeowner.
How to Protect Your Investment
Buying a house as a single person can be a financially-savvy move, but you will need to take steps to protect your hard-earned investment, particularly if you decide to have a roommate or if you get into a serious relationship. Here are a few steps you can take to safeguard your investment as a single person buying a home.
To protect your home equity in the event of divorce, consider getting a prenup. If you have built up a significant amount of equity before getting married, consult a lawyer to see if keeping the home separate from your marital assets would be appropriate. This will ensure the property remains your premarital asset.
When letting someone move in with you, make sure to plan ahead. Establish a lease or written agreement to address the mortgage payments to protect yourself in case of non-payment. Also, avoid putting anyone else on the deed, as it would give them shared ownership of the property.
Shop around for home insurance. To ensure your home is adequately protected and to potentially lower your insurance premiums, consider shopping for home insurance, installing security systems, and comparing rates from multiple insurers.
RELATED: Buying a House with a Friend: Is Co-Ownership a Good Idea?
You're Not Alone with PacRes Mortgage
You may be a single person buying a house, but we're here to help you every step of the way! Let's meet at the corner of your dream and our expertise—reach out today to get started, or check out our blog for additional insights.

Categories
Archives
Recent Posts
Getting started >
You bring the dream. We'll bring the diagram.
There's a financing solution for just about every situation.
Let's go get it

What our clients say >
I felt like I was treated like family, great communication and helping me with any questions I had.
Testimonials

Getting started >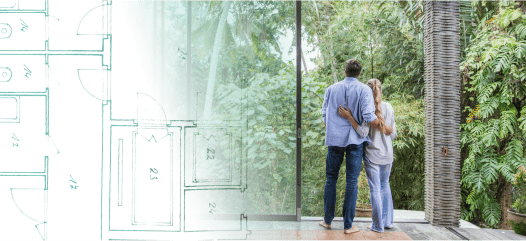 You bring the dream. We'll bring the diagram.
There's a financing solution for just about every situation.
Get started

Find an advisor >
Where does your sun shine? Find your local advisor.
Enter your city or state to see advisors near you.
Find advisor

Careers at PacRes>
We're growing. Grow with us.
Careers at PacRes reward excellence in mortgage banking.
Build a better tomorrow