< Back to News & Insights
Buying a House with a Friend: Is Co-Ownership a Good Idea?
Dave Holman, CMA,
Sr. Mortgage Advisor
November 7, 2022 — 7 min read

Your parents are great, but as much as you love them, you need your space and independence. Whether you're looking to boost your purchase power, build a strong financial future through home equity, or take advantage of potential tax benefits, co-buying a house with a friend, family member, roommate, or business partner is a solid option. However, as with most big choices, there are advantages and disadvantages to co-ownership. Consider these facts and figures before deciding to move forward with co-buying a house.
Why Is Co-Ownership on the Rise?
Over the past couple of years, the age of the average homebuyer has risen to an all-time high of 55, pricing more people out of the housing market than in previous years, according to the National Association of Realtors (NAR). Throw in cost of living increases and student debt, and many prospective homeowners--especially younger ones--are forced to search for a more affordable option.
Last year, an estimated 25% of all homes sold in the U.S. were sold to co-buyers, according to CoBuy. Of those buyers, 69 percent opted to co-own a home due to financial factors, 52 percent due to social factors, and 40 percent because they wanted to own a home. No matter the reason you're considering co-ownership, it has the potential to help you reach your long-term financial goals. However, you must know what to expect and which questions to ask.
How Does Co-Ownership Work?
Co-ownership involves two or more parties pooling resources to purchase a property together. While it's common for married couples to own their home with both names on the deed, there are other forms co-ownership can take. Friends, family members, roommates, business partners, and significant others may also want to purchase a house together. However, the group will need to be on the same page on how they would like to hold the deed to the home.
Joint tenancy requires each person to share equal ownership, regardless of the dollar amount they invested. No one is allowed to choose beneficiaries--instead, surviving owners assume and divide the deceased person's share. Each owner may sell their share to another person without permission from the other co-owners.
Tenancy in common requires that each person's share be equal to the amount of money they've invested in the property. That said, each person has equal rights to all areas of the property, and each owner selects who receives their share of the property when they die. If a co-owner wants to sell their share, they must receive consent from the other co-owners.
Regardless of how you choose to hold the deed, each owner on the mortgage will be equally responsible for the debt.
Benefits of Buying a House with a Friend
It's easier to qualify for a mortgage. When you apply for a mortgage, your lender will examine your income, credit score, current debt, and more to figure out how much home you can afford. These minimum loan requirements will be different, depending on the loan program you're applying for. However, with two people on the application, you'll have a higher chance of meeting all of the requirements and getting approved.
You're building home equity. The longer you and your co-buyer make on-time payments, the more equity you have in your home. Put simply, home equity is the difference between the amount your house is worth and the amount you still owe on your mortgage. When the time comes for you and your roommate(s) go separate ways, you can split proceeds from the real estate sale and put the money towards a down payment on your places.
You're saving on monthly expenses. From utilities, internet, and waste management, to paying for home maintenance and repairs, monthly expenses at home can add up over time. When you buy a house with a friend, however, those costs suddenly seem much less intimidating. You'll have extra cash to save, use to pay off debt, or put back into your house or hobbies.
Pro Tip: To ensure easy and quick repayment, consider using a digital payment app like Venmo, Zelle, or PayPal.
You may be eligible for tax breaks. Did you know that the interest you pay on a mortgage is tax deductible? If you own a house with someone else, remember that the amount of interest you individually deduct must add up to the total interest paid on the mortgage for that year.
Questions to Ask Before Buying a House with a Friend
If you're considering co-buying a house with a friend, here are the most important questions to ask before entering the home-buying process together.
Who's going to own the house? It may sound confusing, but just because you're buying a house together doesn't automatically make you co-owners. If you and the person you're buying with plan to be co-owners together, both of your names will need to be on more than just the mortgage--both names will also need to be listed on the deed. If you're not on the deed, you have no ownership rights to the home and risk not receiving proceeds from a future sale.
How will you divide expenses? While it may feel unnecessary to have a legally-binding agreement between friends or loved ones, it's essential if you want to have a successful partnership. In your agreement, indicate the amount each person is expected to put towards to the down payment and what each of you will contribute to monthly payments, utilities, taxes, and maintenance.
What's the other person's credit score? If you're co-buying a house with someone, it's vital to open up about your finances, regardless of how uncomfortable it may feel at first. Before prequalifying, lay out your finances and be transparent with each other about the amount of debt you have and your credit score. Your lender will take both scores into account when figuring out your mortgage rate.
How will you handle tax breaks? If co-buyers are married, they may file taxes jointly and apply together for tax breaks related to homeownership; for unmarried co-buyers, this isn't an option. That's why if you're considering co-ownership, it's essential to discuss ahead of time how you plan to account for the mortgage interest and property tax deductions. Only one owner is permitted to include the deductions on their tax return, but you may want to split the savings after tax filing season is finished; alternatively, after the first year, you can take turns claiming benefits.
What if one of you wants to move out? Unfortunately, your relationship with your co-buyer may end at some point, or one of you may have to leave for a job opportunity or an important life event. Connect with your co-buyer and put in writing what you would like to happen if something like this occurs.
How will co-buying a house affect our relationship? If you're co-buying a house with someone, chances are that you trust and respect them. However, owning a home together can change things. New responsibilities and challenges may cause stress or arguments. Before co-buying, think about whether owning a home is worth the potential risk to your relationship.
Co-Signer vs. Co-Borrower: What's the Difference?
If you want someone to share financial responsibilities with, or if you need someone to back you up in case of financial hardship, a co-borrower or cosigner can help. However, there are a couple of differences to keep in mind.
While a co-signer may agree to take on financial responsibility if the borrower defaults on their mortgage, they don't have any legal claim to the property. In most cases, a co-signer is there to assist the borrower in qualifying for a loan they otherwise might not have qualified for.
On the other hand, co-buyers have their name on the title and mortgage, which gives them a right to the property. It also means they share the responsibility of loan payback with the primary borrower.
What's Next?
If you have additional questions about co-buying a house or want to explore next steps with a local mortgage expert, please reach out today! Visit our blog for easy-to-understand homebuying tips and advice.
Categories
Archives
Recent Posts
Getting started >
You bring the dream. We'll bring the diagram.
There's a financing solution for just about every situation.
Let's go get it

What our clients say >
I felt like I was treated like family, great communication and helping me with any questions I had.
Testimonials

Getting started >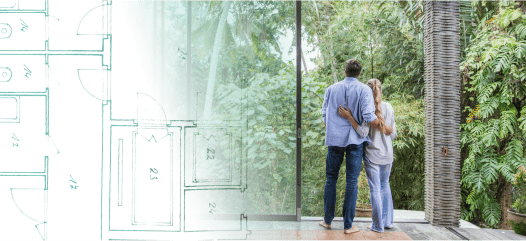 You bring the dream. We'll bring the diagram.
There's a financing solution for just about every situation.
Get started

Find an advisor >
Where does your sun shine? Find your local advisor.
Enter your city or state to see advisors near you.
Find advisor

Careers at PacRes>
We're growing. Grow with us.
Careers at PacRes reward excellence in mortgage banking.
Build a better tomorrow