< Back to News & Insights
Indoor Dog House Ideas for the 'Ultimutt' Pet Parents
Spencer Holden,
Sr. Mortgage Advisor
July 1, 2022 — 8 min read
It may sound far-fetched, but did you know that 52 percent of pet owners
have performed a home renovation
to make their living space more comfortable for their pets? Your dog is a beloved member of the family, which is why we want to help you build your pooch a palace. Use these indoor dog house ideas and dog house bedding ideas to make your dog more comfortable and to increase appeal for buyers
in the market for a pet-friendly living space
. Just in time for summer, we've also included tips to help you recognize signs of overheating in dogs.
Is an Indoor Dog House a Good Idea for Me?
Some pet parents permit their pooch to sleep wherever they want, while others designate a specific spot. If you're thinking about creating a special place for your dog to rest, you'll have to decide: do you want a built-in living space, or something more portable? If you want to install a built-in space, there are a few questions to keep top of mind, including:
Do I have the appropriate space?
If you're thinking about a built-in space, remember that dogs are social creatures, so it's best if you can find a spot where people gather, such as the living room or the kitchen. The space should be warm, spacious, and comfortable. However, just like people, every dog is different. If your pup is independent, nervous, or easily stressed, they may appreciate a house with some privacy.
Will this fit our needs long-term?
While a built-in space may make sense right now, it may not in the future, depending on your circumstances. Before investing heavily, make sure you know how long you're going to stay in your current home and how long you're planning to be a dog owner. When taking measurements, consider the current size and weight of your dog, and if they still have growing to do. It doesn't make sense to build the perfect indoor space for your puppy, only to have them outgrow it a few months later. Typically, the width and length of a dog house should be about 25 percent larger than your dog's nose-to-flank length; to calculate this number, measure your dog from the tip of their nose to the base of their tail, and their height from paw to shoulder. The depth of the dog house should be longer than your dog, while the door should be 75% of your dog's shoulder height.
How will this impact property value?
Dogs can have a big impact on home value when it comes time to sell, but whether the impact of a built-in dog house is good or bad will depend on the buyer's preferences, the location of your home, and the demographics of your neighborhood. In general, if you think you may move soon, or if want to make sure that your home is ready to see quickly, you may want to opt for a portable indoor dog house.
Is Dog House Bedding Necessary?
While not strictly necessary indoors,
dog house
bedding will help to protect your floors against scratches and scuffs,
on top of making your canine more comfortable. Here are a few of our favorite time-tested materials.
Linens.
Got an old blanket, sheet, or towel laying around? These are cheap and durable to use as dog house bedding, and won't harbor insects.
Rugs.
Rugs often come with a rubber back, which will help protect from moisture, and keep the rug from sliding around. However, if your house gets chilly at night, know that rugs aren't well-suited for cold weather, and some may not be appropriate for avid chewers.
Dog Beds/Heated Beds.
Dog beds may be more expensive than linens or rugs, but they're also more effective, particularly if your dog suffers from arthritis, hip dysplasia, circulation issues, spinal injuries, or other conditions. If your dog lacks fur, it may also benefit from heated dog house bedding. If your dog is a destructive chewer, regular dog house bedding is probably the better choice.
Safety Tip:
If you have a heated blanket for yourself,
don't use it in your dog house
--due to differences in our body temperatures, it may not be safe.
What Materials Do I Need to Build an Indoor Dog House?
Many of the materials you'll need to build an indoor dog house are available at local hardware and building supply stores. Since your dog house will be inside, you won't need to buy weather-proof or roofing materials. Before diving in, there are other things you should consider, including:
Will the materials give off an odor?
If my dog has an accident, how easy will it be to clean?
Will my dog chew on the house, and if so, will it be safe?
Here are a few tried-and-true materials that are frequently used to construct dog houses, inside and out:
Acrylic plastic.
This material looks like glass, but it's much more durable. This means that if your pet or another object bumps into it, even at a high rate of speed, it's unlikely to break or give. Additionally, acrylic is lightweight and doesn't come with sharp edges.
Wood.
Wood is a staple for home projects, as it is easy to craft and widely available. Plus, you can paint or stain it to your preference. If your dog likes to chew, just be sure that you use
safe wood
. You should also ensure that all sealants, stains, and paints that you use are free of harmful chemicals. Don't use particleboard, as it will not hold up against moisture.
Pro Tip:
Coat the inside of your dog house with mold-resistant bathroom paint. This will protect the walls and make them easier to clean in the future.
Brick or concrete.
While brick and concrete are sturdy and strong, they are not typically used to construct an indoor dog house. Once applied, these materials are quite permanent, and they will do a poor job of retaining heat during the winter months. Be wary of indoor dog house ideas that utilize these materials.
Signs of Overheating in Dogs
Dogs don't know how to communicate when they're overheating, so they will usually push themselves beyond the limit of safe activity during warm weather. If you notice these signs of overheating in dogs, regardless of how hot you are, it's probably time to take a break and make sure they have access to clean, fresh water and shade.
Ears beginning to droop
The tail stops wagging and droops
Dog gets less active
Rapid heart rate
Excessive panting
Rub cool water onto your dog's chest and armpits if you see any of these signs. Then, transport them to a cooler spot. It's a good idea to contact your vet if you notice signs of overheating in dogs, even if they appear to be doing better after a while.
How Do I Keep My Dog House Cool?
Remember that fur coat? Additionally,
dogs have fewer sweat glands
than we do, which makes it difficult for them to cool off quickly. If you're concerned about keeping your canine cool, here are a few options.
Purchase an air-conditioning unit.
There are a lot of powerful air conditioners out there, but that's not what you want--if your unit is too powerful, it will cycle for short bursts; if it's too small, it will run constantly. Ideally, you want something smaller, but not so small that it will be running all the time. If you're building a house for a smaller pup,
a portable air conditioner may be the best option
. This will save you from having to cool the entirety of your home.
Pro Tip:
If your dog is sensitive to heat, you may also want to consider purchasing a
cooling vest
to keep them comfortable for longer.
Evaporative air coolers.
These machines evaporate water into the air as an alternative form of cooling. It passes outdoor air over water-saturated pads. Then, the water in the pads evaporates, reducing the air temperature of the space. Evaporative air coolers are more energy-efficient than air-conditioning units, especially if your dog house doesn't have walls or a door to keep all of the cold air inside.
Can fans help?
Unfortunately,
dogs overheat quite easily
, and fans don't do a whole lot to cool them off. Here's why: fans keep humans cool because they wick heat and sweat off of our skin; fans are less effective on dogs, who don't have skin and don't sweat through their fur. It's essential to monitor your pets and make sure they're comfortable in the temperatures in your home. The optimal temperature for your dog is
between 78 and 69 degrees
.
Ready to create your own indoor dog house? While you love your pet and want them to have the best, it's worth considering how custom features may affect your home's marketability. Contact your local Mortgage Advisor today.
Categories
Archives
Recent Posts
Getting started >
You bring the dream. We'll bring the diagram.
There's a financing solution for just about every situation.
Let's go get it

What our clients say >
I felt like I was treated like family, great communication and helping me with any questions I had.
Testimonials

Getting started >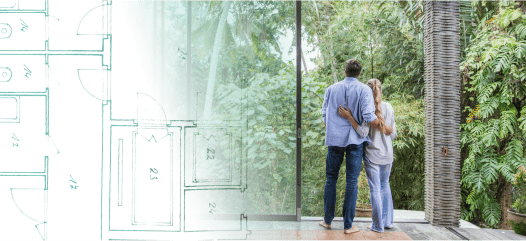 You bring the dream. We'll bring the diagram.
There's a financing solution for just about every situation.
Get started

Find an advisor >
Where does your sun shine? Find your local advisor.
Enter your city or state to see advisors near you.
Find advisor

Careers at PacRes>
We're growing. Grow with us.
Careers at PacRes reward excellence in mortgage banking.
Build a better tomorrow