< Back to News & Insights
What is the "Tiny Home" Movement?
August 29, 2019 — 4 min read
Have you heard of this trend? In a world of "bigger is better", tiny homes have suddenly
taken the Internet by storm.
In an effort to leave a smaller environmental footprint, and save thousands in bills each year, people are leaving a life of spacious bedrooms and expansive closets behind. The average size of an American home is about 2,600 sq. ft., whereas tiny homes are typically between 100 and 400 sq. ft. Some are built on small plots of land, and others are opting for mobility by making their homes into small trailers. No matter the layout or usability, these tiny homes are making a statement.

Benefits of Living Little
So, is it even possible to enjoy a house of this size? You might be picturing cramped spaces and claustrophobic sleeping quarters. However, popular social sites, like Pinterest and Instagram, are flooded with "tiny home inspiration" pictures and boards. The idea of living clean and simply has encouraged homeowners to throw out the unnecessary and opt for minimalization.
Less Clutter
With a much smaller space to live, you definitely don't want (or need) additional clutter. Living in a tiny home would reveal exactly what you need to function in your space.
Smaller Bills
The high cost of house-related bills usually occurs in peak seasons of hot or cold temperatures. Imagine how much less you could pay each month when your home is a fraction of the size? Not to mention, the money you save from the one-time construction of a tiny home versus a monthly mortgage, could dramatically increase the amount you contribute toward savings, retirement, vacations, or any number of things.
Decreased Footprint
As environmental concern continues to grow, some homeowners are opting for a smaller carbon footprint. Smaller homes require fewer materials to build and less energy to power. It's a double win, right?
Endless Possibilities
If you've always considered moving around the country or dreamed of packing everything up to travel, now you can! Whereas the cost to maintain and fuel a large RV may be unappealing, a (mobile) tiny home gives you the ability to settle down anywhere in the comfort of your
actual home
.
The Logistics
Tiny homes are great for the traveler in you, and they're pretty easy on your wallet, once built. But what are the logistics of tiny living?
Building
The
average cost to construct a
tiny home could cost you anywhere between $10,000 and $40,000, depending on the size of the home and whether or not you contract out help. It might seem like quite a bit up front. However, the
national average down payment
on a home is $14,000, or 6% of the asking price. The recommended down payment amount is usually 20% of the asking price. Although, this is not always
financially viable
for homeowners. When you take into consideration the potential amount you would need as a down payment, plus closing fees, interest, monthly mortgage payments, and possible Mortgage Insurance, the amount you would save by building your own tiny home could be more than you thought.
Potential Investment
If you're not interested in living in your own tiny home, you could consider building one as an investment opportunity. As we mentioned above, the cost of construction is minimal and the time it takes to build would be significantly shorter than a full-size home. Or you could flip an older, smaller house to have all the ins and outs of a modern tiny home to save on structural construction costs. If you live in a large tourism city, you could
list the home
on a rental site, or advertise it yourself. Your lender most likely has
loan programs
for investment homes, as well. There are plenty of ways to
make a buck on the tiny home trend!

What Can We Learn from Tiny Homes?
Even if the tiny home life isn't for you, there's plenty of d?cor tips and tricks we can learn from this movement.
Let the Light In
The trick to making spaces seem bigger than they are is to let as much natural light in as you can. In most tiny homes, a large portion of one wall, or even sometimes the roof, is replaced with a large window to decrease the need for light fixtures.
Find Multiuse Items
Small spaces don't mean you have to sacrifice style, it just means you have to be smart with the space you have! Double the use of a nice bench with internal storage. Or use a pop-up hamper as blanket storage when not in use.
Think Vertically
Hanging wall art and other d?cor pieces low on the wall will cause your eyes to stop at that level. Think vertically when it comes time to decorate to make the walls appear taller than they are.
Categories
Archives
Recent Posts
Getting started >
You bring the dream. We'll bring the diagram.
There's a financing solution for just about every situation.
Let's go get it

What our clients say >
I felt like I was treated like family, great communication and helping me with any questions I had.
Testimonials

Getting started >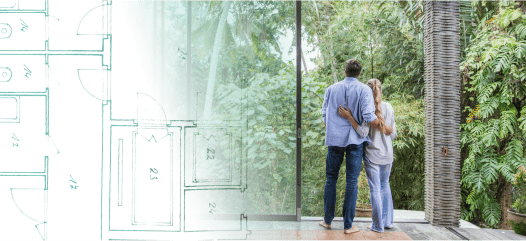 You bring the dream. We'll bring the diagram.
There's a financing solution for just about every situation.
Get started

Find an advisor >
Where does your sun shine? Find your local advisor.
Enter your city or state to see advisors near you.
Find advisor

Careers at PacRes>
We're growing. Grow with us.
Careers at PacRes reward excellence in mortgage banking.
Build a better tomorrow