< Back to News & Insights
Should I Downsize My Home?
Robert Thompson Sr.,
Regional Manager
August 5, 2020 — 4 min read
Whether it's one-bedroom too many or a backyard that you just can't keep up with, there are many reasons to consider downsizing your home. Even if you're content with the current size of your living space, you might be surprised at all the ways you can benefit from resizing. Not to mention, mortgage rates recently fell
below 3 percent
for the first time in 50 years. In a world of "bigger is better," it might be time to declutter and think small. Here are a few questions to ask yourself when deciding if downsizing is right for you.
Do I have debts to pay off?
Outside of your mortgage, are you tackling a mountain of debt? Maybe you have student loans that just won't go away or lingering payments from the family vacation last summer that you need to pay off. Downsizing to a smaller space could be the solution you've been looking for. Simply deciding that a smaller backyard and fewer bedrooms could make a significant impact on
paying off your debt.
A lower mortgage payment each month means extra money toward debts you don't want or need. If you have enough equity built up in your current home, you may even be able to put a considerable amount toward a down payment. (Homeowners can avoid the additional cost of
Mortgage Insurance
by putting down at least 20% of the purchase price.)
Is this much space necessary?
When you initially purchased your home, you might have needed more space than you currently do. If you had kids that are out of the house, or about to be, you probably don't need the extra bedroom space. If you live on land or just have an exceptionally large backyard, the thought of downsizing might be even more appealing. Cutting out unnecessary space could also just be one less entertainment space, a laundry room with strategic storage rather than floor space, or dining room that's attached to the kitchen instead of a separate room.
Note:
Before you decide to cut your square footage in half, remember you still need space to live and function. If you host parties often, leave the kitchen space alone. Do you have family in town frequently? Make sure your new home has the bedroom space you depended on before.
What are my retirement plans?
If you're nearing or at retirement age, downsizing into a smaller space could financially open doors for you. This could mean a second home abroad or funding day-to-day living expenses. A smaller home could also mean less physical work, such as yard work, pool maintenance, or regular house chores. Even if you're not near retirement age, it never hurts to think long-term. A smaller mortgage means more money toward other debts and savings accounts. Could you retire sooner than you thought?
Could I really live in a smaller space?
Downsizing isn't just a decision you can make on a whim. We recommend sitting down and evaluating:
Must-have space requirements (a pool for the kids, a spare room for an aging relative)
Your current financial situation
Retirement plans
College plans (if you have kids)
The housing market in your area
If you've decided that downsizing could be for you, we have a few tips to make the process as painless as possible.
Take time to declutter your space. If you've gone through a few moves, chances are things have just been thrown into boxes and crates, then vaguely labeled for future use. You'd be surprised how many old computer wires, expired boxes of food, and half-empty bottles of conditioner will accumulate over time.
Keep what you need. This may seem obvious, but when you're downsizing, some people feel the urge to throw out more than they need to. If you use it, keep it. If you forgot it existed at the back of your cabinet, chuck it.
Plan storage options in advance. Are you planning on another kid down the road, but not quite yet? Put that stuff into storage! If you're downsizing rooms, there's no need to hold onto extra dressers and beds. However, if you're planning to need the items down the road, give yourself time to pack, move, and store the items before you move into a new home.
Digitize what you can. This includes everything from financial records to DVDs. These items tend to be important (and in some cases necessary to have), but they're heavy in bulk and take up a lot of space. Scan and backup essential documents to multiple places. Store CDs and DVDs in sleeves rather than their original cases.
Ready to make a move? Contact a Mortgage Advisor today to get started on your journey to a smaller space with less stress.
Categories
Archives
Recent Posts
Getting started >
You bring the dream. We'll bring the diagram.
There's a financing solution for just about every situation.
Let's go get it

What our clients say >
I felt like I was treated like family, great communication and helping me with any questions I had.
Testimonials

Getting started >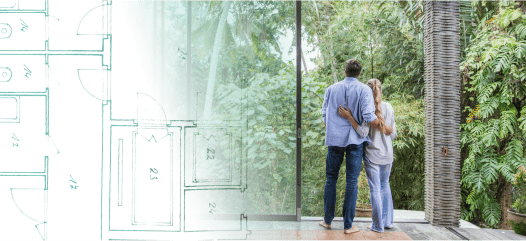 You bring the dream. We'll bring the diagram.
There's a financing solution for just about every situation.
Get started

Find an advisor >
Where does your sun shine? Find your local advisor.
Enter your city or state to see advisors near you.
Find advisor

Careers at PacRes>
We're growing. Grow with us.
Careers at PacRes reward excellence in mortgage banking.
Build a better tomorrow