< Back to News & Insights
Refinancing Before and After a Divorce
August 14, 2019 — 3 min read
Divorce rates across the United States have seen an 8% drop over the past ten years. However, the likelihood of divorce is still between
40-50% for American couples
in their first marriage. This percentage skyrockets for couples in their second marriage. No one gets married with the intention of getting divorced, but life happens. It's important for you and your partner to be on the same page financially in case divorce were to ever become a reality.
Refinancing Before Divorce
Contrary to popular belief, if you were to split from your spouse, their name is not removed from the mortgage, even if the divorce decree awards the home (and the mortgage) to one spouse. In order to remove someone from the mortgage,
you will usually need to refinance the mortgage with the spouse who will be in sole possession of the home
. If you and your soon-to-be ex-spouse are still on good speaking terms, refinancing before getting a divorce could be the best option for
both of you.
Better Chance at Qualification
When you apply for a refinance as a joint couple, your finances reflect two salaries and two credit scores. Lenders will have more records to take into consideration when deciding whether or not to grant the loan.
Lock in a Low Interest Rate
The Federal Reserve recently cut rates for the first time
in ten years
, so right now could be the best time to refinance.
Sometimes a divorce will not finalize for a year or more, depending on the circumstances. As a couple, you may decide that a refi now would save you both thousands of dollars in the long-run.
Refinancing After Divorce
It's important to remember that your ability to refinance will be based on a number of factors that might change
after
you get divorced. For example, your credit score will not be
directly
affected by the split,
but there are circumstances that could cause your score to drop
, which could also increase your interest rate.
Debt-to-Income Ratio
Lenders take your debt-to-income (DTI) ratio into consideration when approving you for a home loan. If you're married, the salary of both you and your spouse are evaluated. Once your spouse's salary is taken out of this equation, it might be more difficult for you to refinance.
Joint Accounts
There's always a chance that you may be required to close joint credit accounts with your ex-spouse. As a result, this would lower your total available credit. You may also run into trouble if your former partner is unwilling to pay off balances due on joint accounts. This is where your credit score will begin to take a hit. If most of your financial accounts were in another person's name, you might also have a limited credit history.
Potential Benefits
Although your chances of qualifying for a refinance are potentially higher as a couple, there are still benefits to waiting until
after your divorce is finalized to refi.
Your ex-spouse won't be on the new mortgage
You will be in charge of your own financial decisions
Liquidity could be used to buy your former spouse out of their portion of the home
Because your home is likely the most valuable asset you and your spouse purchased together, it's important to know what your options are before and after a divorce.
Speak with a Mortgage Advisor
today to learn more.
Categories
Archives
Recent Posts
Getting started >
You bring the dream. We'll bring the diagram.
There's a financing solution for just about every situation.
Let's go get it

What our clients say >
I felt like I was treated like family, great communication and helping me with any questions I had.
Testimonials

Getting started >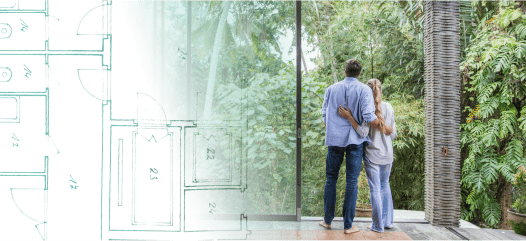 You bring the dream. We'll bring the diagram.
There's a financing solution for just about every situation.
Get started

Find an advisor >
Where does your sun shine? Find your local advisor.
Enter your city or state to see advisors near you.
Find advisor

Careers at PacRes>
We're growing. Grow with us.
Careers at PacRes reward excellence in mortgage banking.
Build a better tomorrow