< Back to News & Insights
Questions You Should Ask Your Mortgage Advisor
Kristina Hubbard, CMA,
Branch Manager / Sr. Mortgage Advisor
January 14, 2021 — 4 min read
When it comes time to apply for a home loan, your Mortgage Advisor will cover the basics with you. This will typically include your interest rate, which loan solutions you qualify for, etc. However, there are a few important questions you can ask your lender to let them know what you need further clarification on.
What is my interest rate?
Rates are currently lower today than they've been in over 50 years, which is great news for homebuyers and those looking to refinance to a lower rate. However,
there is no guarantee what your rate will be until your financial situation has been thoroughly evaluated.
Multiple factors
affect your rate
, including:
Credit score
Property type and location of the home
Loan term
Interest rate type (fixed or adjustable)
Home price and loan amount
What are my loan options?
Depending on where you stand financially, you may qualify for
multiple loans
. Each loan will have different minimum down payment and credit score requirements. Your mortgage will also differ by the type of rate (fixed or adjustable.) Ask your advisor to walk you through all of your options and explain what the long-term of each loan will look like. If you have circumstances that prevent you from falling within the traditional mortgage parameters, your loan options might change. For example, if you're self-employed, your bank statements would be evaluated, rather than your tax returns. (PacRes has a number of
non-traditional loan solutions
to help clients in unique situations.)
Will I have to pay Mortgage Insurance (MI)?
If you put down less than 20% of the purchase price of the home, you will most likely have to
pay Mortgage Insurance.
MI is also typically required on FHA and USDA
*
loans. This helps offset the risk the lender would normally assume on a low down payment transaction.
What additional costs will I pay at closing?
Closing costs vary
from loan-to-loan because many fees are based on the exact amount of money borrowed. The more you borrow, in general, the higher your costs. However, it is a general rule that closing costs run between 2-5% of the sale of the home. Even though they're called "closing costs," you may be asked to pay some fees as the loan process progresses, like home inspections and appraisals. While your estimated closing costs will be included in the loan estimate, many of the fees listed can change along the way.
Can I lock-in my interest rate?
Some lenders will not offer a rate lock, or they charge a fee to lock in your rate for a certain period of time. At PacRes, we have a RateSafe program that allows homebuyers a 90-day interest rate "lock-in" that confirms the interest rate we offer you will stay the same for 90 days while you shop for the right home. This way, you can shop for your home knowing exactly what you can afford, without fear of the market changing!
Does my partner have to be on the mortgage?
The short answer is no. Having a spouse as a co-borrower on a mortgage can often increase your
odds for qualification
if they have a good credit score, employment history, and income. In some cases, one spouse may have credit issues or complex income, which could work against you when applying for a mortgage. In that case, it may be more beneficial to have only one borrower on the loan. However, both spouses may have to have their credit checked,
so you'll need to speak with your Mortgage Advisor about this.
If you change your mind later on, a non-borrowing spouse can be added to the home's title, or both spouses could refinance the home, which will allow you to apply again as co-borrowers on the new mortgage.
Do you still have questions for us? Contact a local Mortgage Advisor today for a complimentary consultation!
*Some state and county maximum loan amount restrictions may apply.
Categories
Archives
Recent Posts
Getting started >
You bring the dream. We'll bring the diagram.
There's a financing solution for just about every situation.
Let's go get it

What our clients say >
I felt like I was treated like family, great communication and helping me with any questions I had.
Testimonials

Getting started >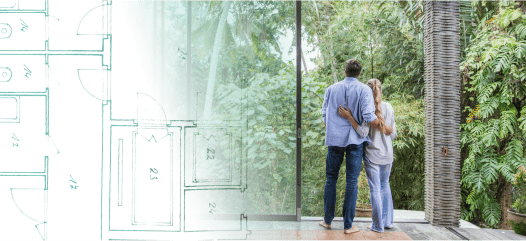 You bring the dream. We'll bring the diagram.
There's a financing solution for just about every situation.
Get started

Find an advisor >
Where does your sun shine? Find your local advisor.
Enter your city or state to see advisors near you.
Find advisor

Careers at PacRes>
We're growing. Grow with us.
Careers at PacRes reward excellence in mortgage banking.
Build a better tomorrow