< Back to News & Insights
Make Your Home Handicap-Friendly: 15% of the World Will Thank You
Samantha Wikoff, CMA,
Regional Manager
February 20, 2023 — 8 min read
Did you know about 15 percent of the world's population—about one billion people—experience some form of disability? While newer homes may come equipped with accessibility features, older homes may not; thankfully, there are easy ways to improve accessibility and make your space a more handicap-friendly home.
Pro Tip: While you may be able to make some of these adjustments alone, it's always best to consult a professional for tasks such as mounting grab bars and other furniture to the wall, or for any other maintenance projects.
Creating a More Handicap-Friendly Home: Questions to Improve Accessibility
If a house isn't designed properly, it can be challenging for people with disabilities to move around the house freely. Whether you recently received your new ability status, are planning to age in place, or just want to take the chance to make a more handicap-friendly home, here are some questions to ask when assessing the accessibility and safety of your home.
Are the exterior walkways and entrances well-lit and free of tripping hazards?
Is there at least one entrance to the home that does not require navigating steps?
Do the exterior doors have good lighting for visibility?
If the home has multiple stories, does the ground floor have a bedroom, full bathroom, and kitchen to facilitate easy movement within the home?
Are the staircases well-lit and equipped with handrails on both sides, as well as light switches at the top and bottom?
Are cabinets and shelves within easy reach and easily accessible for someone with mobility limitations?
Does the kitchen have a work surface that can be used while seated?
Is there a fire extinguisher within reach of the stove and/or oven in case of emergencies?
Are area rugs secured to the floor or equipped with non-slip grips to prevent falls?
Are there smoke and carbon monoxide detectors on each floor of the home, and are they loud enough to be heard in all bedrooms?
Could implementing these changes increase the value of the home?
Inspect the outside of your home and take a close look at each room of the house with these questions in mind. Consider the most extreme cases when selecting which changes should be made—if you or someone you know has a disability, it may present new challenges over time, and you'll want to be prepared for those sorts of things before they happen.
Related: Our Best Funding Options for Your Home Improvement Project
Creating a More Handicap-Friendly Home: Exterior Modifications
Start with the basics: is it easy to see your address from the street, in the dark, or in bad weather? In case of an accident, it's important that first responders are able to easily find and access your home. Next, inspect your driveway and walkways: is there anything blocking the way to your front door? Watch out for cracks or tree roots that could cause someone using a walker or wheelchair to get caught or hurt themselves.
To improve accessibility, one or more outside door should have an alternative entrance, such as a flat threshold or a ramp with a railing along both sides and landings at the top and bottom. If your home has stairs, it's important to have a ramp installed. To improve safety and prevent slips and falls, it is best if ramps and pathways have a slight texture to them, which helps to reduce the build-up of water and increases traction for people using shoes, walkers, or wheelchairs.
Finally, improve accessibility by installing motion-light sensors to ensure pathways are well-lit; they may also help save energy and act as an added layer of security.
Creating a More Handicap-Friendly Home: Doors, Hallways, and Stairs
You should also take steps to ensure there is sufficient lighting indoors, too, including in hallways or stairwells. You may want to install light switches at both ends of a hallway or at the top and bottom of a stairwell and consider putting in a couple of night lights in between.
In general, while area and/or runner rugs may add color and warmth to your home's interior, they're a significant tripping hazard for some people living with disabilities. If you must have an area or runner rug, make sure to secure it with carpet tape or skid-resistant lining. Never put a run on the stairs, or directly at the top or bottom of the stairs, in a disability-conscious home.
If you're trying to create a more handicap-friendly home, make sure to think about your doors, too—for those with limited mobility in their hands and wrists, handles are much easier to use than knobs. You may even consider putting in a power-operated door in high-traffic rooms of your house. For your front door, make sure your peephole is at a comfortable height, as well as a chain that lets you speak with a visitor without fully opening the door.
Related: Love Your Home? Skip the Chocolate—Speak Your Heart with a Cash-Out Refinance
Creating a More Handicap-Friendly Home: Bathrooms
The average bathroom poses a plethora of potential dangers for someone living with disabilities. That's why it's important to assess your household's personal needs—if the toilet is too low to easily transfer to and from, an elevated seat may be necessary. Some elevated seat products may come with arms or guard rails for support.
Your bathing area may also some attention since water may add extra danger. Eliminating the need to step over a ledge will greatly reduce the risk of falling. Putting in a shower stall with curtains, roll-in accessibility, grab bars, and a seat is the safest option, even if you do not use a wheelchair.
It is ideal for your shower to have grab bars that run the length of the tub and an additional one at the end opposite the drain to facilitate easy transfers; the shower floor should be lined with a non-slip mat or pads to provide better traction, and the bath mat outside the shower should also have a non-slip bottom for added safety.
Countertop sinks provide the most support and access, making them the safest option. If your sink is free-standing, you can reinforce it with an "L" bracket into a wall stud to prevent any danger when leaning on it. It can also be difficult for a person living with disabilities to see the bathroom mirror from a lower angle, so it may be a good idea to install a wall mirror instead.
Creating a More Handicap-Friendly Home: Your Family Room & Bedrooms
In general, closet rods and shelving tend to be too high for wheelchair users; make them more accessible in bedrooms by re-installing them at a reasonable height for someone in a wheelchair.
To make stepping out of bed easier, you may want to consider installing a grab bar near the head of your bed. If you use a bedside table for assistance, it should be securely mounted to a wall stud. It is also important to have a landline or charging outlet for your mobile phone within reach of your bedside.
Related: Want to Finance a Fixer-Upper? Pros and Cons of a 203K Rehab Loan
Creating a More Handicap-Friendly Home: Your Kitchen
The kitchen is the heart of the home, so if you're trying to make a more handicap-friendly home, it makes sense that you may need to make a few updates here, too. In most kitchens, the countertops and sink aren't accessible from a seated position. The solution here is to create leg space underneath. It is best if you can approach the sink directly, rather than at an angle, to avoid any difficulty.
The stove can be particularly dangerous if a home is not handicap friendly. Controls should be on the front of appliances to prevent having to reach across hot burners. Additionally, you may want to attach a removable mirror at an angle to the wall behind the cooktop for better visibility. In a handicap-friendly home, there should be at least two feet of heat-resistant countertop space next to the range, allowing you to slide hot utensils off the burner safely.
To improve accessibility, you may also want to revisit your kitchen organization system—heavy cooking utensils, dishes, and canned foods should be kept on bottom shelves. Boxes, drinking glasses, small items, and anything not used on a regular basis can go on top shelves. You may want to install a Lazy Susan in cabinets or refrigerators to make it easier to access items in the back.
Remember: The Fair Housing Act makes it illegal to discriminate against homebuyers living with disabilities; additionally, a lender is not allowed to discourage an applicant from applying for a loan due to a disability, or to change the terms or conditions of a loan based on disability.
Do You Have Questions?
Much of your life is spent in your house, and we believe that everyone deserves a comfortable place to call home—if you have questions about creating a more handicap-friendly home, please don't hesitate to reach out to your local Mortgage Advisor. Check out our blog for additional home-buying resources.
Categories
Archives
Recent Posts
Getting started >
You bring the dream. We'll bring the diagram.
There's a financing solution for just about every situation.
Let's go get it

What our clients say >
I felt like I was treated like family, great communication and helping me with any questions I had.
Testimonials

Getting started >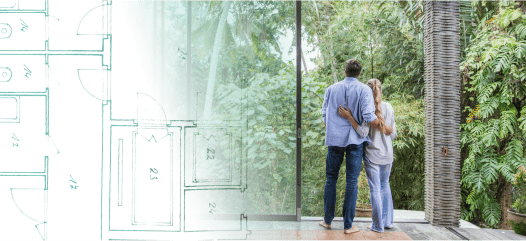 You bring the dream. We'll bring the diagram.
There's a financing solution for just about every situation.
Get started

Find an advisor >
Where does your sun shine? Find your local advisor.
Enter your city or state to see advisors near you.
Find advisor

Careers at PacRes>
We're growing. Grow with us.
Careers at PacRes reward excellence in mortgage banking.
Build a better tomorrow