< Back to News & Insights
Easy Tips For a More Eco-Friendly Holiday Home
Harriet Bing,
Mortgage Advisor
December 6, 2021 — 6 min read
From uneaten food to discarded wrapping paper and packaging, the holidays come with a lot of waste. In fact, according to experts, the amount of waste produced by US households
increases by more than 25 percent between Thanksgiving and New Year's Day
. If visions of reduced waste are dancing through your head, this guide is for you--here are our top eco-friendly tips to help minimize waste and have an eco-friendly holiday home this year.
Eco-Friendly Lights
Did you know that on average, our holiday lights use more electricity
than some counties use in an entire year
? However, thanks to technology, more energy-efficient options are becoming widely available, like LED lights. These lights use at least 75 percent less energy than incandescent lights and can last up to 25 times longer. When purchasing new lights, ask your retailer to recycle your old lights, or search for other holiday lights recycling programs.
Pro Tip
: It's a good idea to set a light timer or use a smart plug to turn your lights off when you go to bed or leave the house. This will save energy and reduce fire risk.
Green Gift Wrapping
It may have "paper" in its name, but many types of gift wrap are not recyclable due to additives, such as glitter or a metallic finish. In general, wrapping paper can be recycled if it is plain, non-laminated, and made from recycled materials. However, it's not recyclable if there is leftover tape, ribbons, or bows still attached to it.
Pro Tip
: To confirm that your wrapping paper is recyclable, try squeezing it into a ball. If the ball keeps its shape, it's probably recyclable; if it springs back, it's probably not. Here are a couple of suggestions to cut down on wrapping paper use:
Try different packaging.
You don't have to wrap every gift in paper--try using gift boxes and bags, baskets or fabrics, or a reusable wrapping bag. Alternatively, you can repurpose old newspapers, maps, posters, or brown paper bags. If you have an old potato chip bag, try flipping it inside out to reveal its shiny silver inside. Wash out the detritus and
reuse the bag to wrap a small gift
.
Reuse your paper.
Did you know that the US
produces an estimated 4.6 million pounds
of wrapping paper each year? About 2.3 million pounds of it ends up in a landfill. If care is taken to unwrap gifts carefully, some types of paper can be reused many times. If you have little ones,
turn old supplies into decorating activities
. Use tissue paper to make a garland or strips of paper to create colorful ornaments.
Eco-Friendly Shopping
To minimize your carbon footprint, you should also think about your shopping habits. Here are some tips for a more eco-friendly shopping experience:
Shop locally.
Neighborhood shops offer unique gifts and will help you cut down on your shopping miles. Plus, when you support local businesses, you're contributing to the success of the local economy. When you head out the door, remember to bring reusable bags.
Give the gift of experience.
Instead of buying a physical item, why not gift an experience that your friends or loved ones will remember for years to come? Gift certificates to spas, restaurants, or a movie theater make great presents.
Don't shop at all.
Homemade gifts, such as homemade ornaments or craft photo frames, may be treasured longer than anything you can find at a store. Digital options, like a digital photo book or calendar, also make great gifts. You may offer your time or donate to a charity in someone's name.
Online shopping.
Online shopping has a lower carbon footprint than driving to brick-and-mortar stores
except
when you choose rush delivery, according to a
recent study
. When possible, plan ahead, opt for a slower shipping time, and choose gifts that use minimal packaging.
Getting a Green Tree
Every year, millions of people erect a Christmas tree--while some are natural, did you know that
the majority of trees are artificial
? You may be able to reuse an artificial tree, but they're made from metal and plastic. These materials take a lot of energy and resources to produce and are made with polyvinyl chloride (PVC), a plastic that is not recyclable and can take hundreds of years to biodegrade. The greenest tree is one that is naturally grown and bought from a local producer--according to experts, holiday tree farms can cut carbon emissions
by up to 30 percent
. Real trees are biodegradable and after festivities can be used for lumber, mulch, or composted and used to fertilize the next crop.
Pro Tip
: If you do decide to purchase an artificial tree, look for brands that use a reduced amount of PVC in their trees. Keep in mind that plastic from an artificial tree could weaken over time, potentially exposing you to harmful metals. Experts suggest
replacing the tree after a certain number of years
. In recent years, Christmas tree rentals have become popular. Here's how they work--local companies grow trees in nurseries. The trees are potted, delivered for the duration of the holiday season, and then returned to the nursery to continue growing for another year. Planet-friendly benefits include:
You don't have to worry about what to do with the tree after the holiday season
The trees provide habitats for wildlife between holiday seasons
The trees continue to remove carbon dioxide between holiday seasons
You know exactly where the tree was grown, so you can guarantee its travel footprint
You're supporting a local business
Festivities & Food
Just like gift shopping, it's best to find food locally. Hit up your farmer's market to find fixings for your holiday meal. When the feast is finished, compost unwanted food and
refrigerate or freeze the rest
. When possible, use real dishes and silverware instead of disposables. Use recyclable aluminum foil or food coverings instead of plastic wrap. If you have extra food supplies, consider donating to a food bank. You can make a difference by spending money locally and celebrating in an eco-friendly manner. Challenge yourself this year to try at least a few of these thoughtful practices--your wallet, community, and the environment will thank you!
Ready to begin making
eco-friendly holiday traditions in your own home?
Connect with one of our Mortgage Advisors
,
or
check out our blog
for additional home tips.
Categories
Archives
Recent Posts
Getting started >
You bring the dream. We'll bring the diagram.
There's a financing solution for just about every situation.
Let's go get it

What our clients say >
I felt like I was treated like family, great communication and helping me with any questions I had.
Testimonials

Getting started >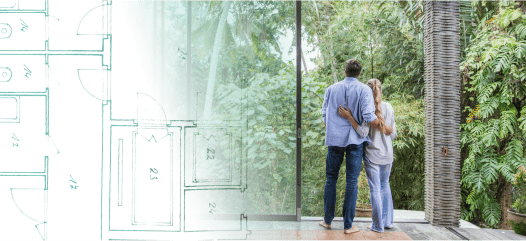 You bring the dream. We'll bring the diagram.
There's a financing solution for just about every situation.
Get started

Find an advisor >
Where does your sun shine? Find your local advisor.
Enter your city or state to see advisors near you.
Find advisor

Careers at PacRes>
We're growing. Grow with us.
Careers at PacRes reward excellence in mortgage banking.
Build a better tomorrow