< Back to News & Insights
7 Budget-Friendly Ways to Furnish Your First Home
August 7, 2020 — 5 min read
Do you remember the first time you stepped foot into a furniture store? The smell of fine leather, the helpful salespeople, the thrill of furnishing your own space... all to come crashing down around you when you looked at the price tag. Furnishing a home is fun to dream about but not so easy on the budget. If you're a new homeowner, or about to be, finding affordable pieces to match your aesthetic can be challenging, but not impossible! Let's talk about your options.
Utilize Online Sources
Ah, Facebook Marketplace... the wild west of modern-day buying, selling, and trading. Online swap sites often get a bad rap from swindled buyers and disappointed sellers, but there are significant benefits to waiting out the good deals. Not every find on a buy/trade/sell site or app will be worthwhile, so patience is the key to this game. Search for "swap-worthy" items around your house or consider selling unwanted belongings to save up for a better deal. Keep in mind that there is an art to buying used items. For example, if you're highly allergic to dogs, you'll need to ask the seller/swapper if the item comes from an animal-friendly home. If you're new to this arena, request to join community swap pages on Facebook, or download an app to help move your transactions along. A few apps we recommend are:
OfferUp
Letgo
5miles
Mercari
Poshmark
Facebook (Marketplace)
Know When to DIY
Unless you're a master craftsman or underly-ambitious in the crafts department, you've probably experienced a DIY project go horribly wrong. If you're considering making your wall d?cor or refurbishing an inexpensive, used piece of furniture, stop and ask yourself, "Is this worth my time or money?" Often,
the answer is no.
If you do decide to go the DIY route, connect with neighbors, friends, or other people in your community that might have helpful experience in d?cor or refurbishing. (YouTube is another excellent source for step-by-step tutorials.) For a list of
easy one-day projects
that are a little safer to attempt, check out this blog.
Assess What You Already Have
Remember that odd fruit bowl you got as a wedding gift? Or that chair you bought on a whim that is currently host to a variety of clothing items? And don't forget about the string lights you bought and never hung. All of these items, and items much like them, can be repurposed in a different space. Whereas you might not have had room in your living room in the past, your new home could have just enough. As we mentioned above, swapping or selling items that no longer fit your aesthetic is a great way to connect with other homeowners who could be looking to get rid of objects as well. Not to mention, some items can be repurposed or used for dual purposes. Add a cushion to a storage bench and
create a seating area
or turn an old side table into a
backyard planter!
The possibilities are endless.
Wait for the Right Deal
Furnishing your home doesn't happen overnight unless you want it to. Sure, you can walk into a furniture store and buy everything you need at once, but you will drop a pretty penny to do so. If you have the time (and patience) to wait out the right deals, you won't be disappointed. This could look like making a post on Facebook to ask for the items you need, subscribing to emails or texts about sales from your favorite stores, or scouring the clearance warehouses in your area. There's no one right way to shop! It's all about your schedule, priorities, and time.
Prioritize High-Traffic Rooms
Let's say you're moving from a 1-bedroom apartment into a 3-bedroom home. You probably had more than enough furniture for your apartment, but furnishing a home is a whole different ballgame. Often, homes will have additional storage closets, yard space, and overall square footage in spots you didn't have before. While you work toward a fully furnished home, start with areas like the living room and kitchen, or other high-traffic spots that guests will see. Think about seating options and comfortability first, then focus on the smaller details such as artwork or fluffy details (pillows, table settings, etc.)

Know Your Needs
If you have three bedrooms to furnish and someone occupying each space, you'd probably want to focus on beds and dressers over patio furniture. But, on the other hand, if you have two empty guest rooms, your focus should instead shift to a different area of need in your home. It seems obvious, but with such a big task at hand, it can be easy to fall into illogical thinking as you try to get it all done.
Keep an Open Mind
At first glance, repurposed or used items can seem less than ideal. However, most things in your house will be replaced over time. When you're fresh off of paying a down payment, real estate agent fees, and all of the other costs associated with being a first-time homebuyer, it might come as a financial relief to buy used (not necessarily cheap) and take the furnishing process slow. Basically, keep an open mind, and try not to stress too much.
Are you ready to be a homeowner? We can get you there. Connect with a Mortgage Advisor today to learn more.
Categories
Archives
Recent Posts
Getting started >
You bring the dream. We'll bring the diagram.
There's a financing solution for just about every situation.
Let's go get it

What our clients say >
I felt like I was treated like family, great communication and helping me with any questions I had.
Testimonials

Getting started >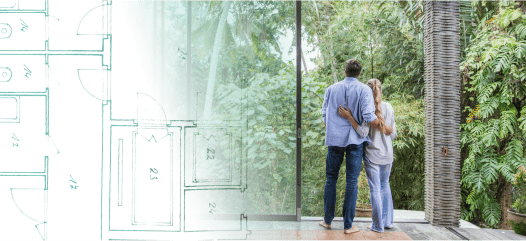 You bring the dream. We'll bring the diagram.
There's a financing solution for just about every situation.
Get started

Find an advisor >
Where does your sun shine? Find your local advisor.
Enter your city or state to see advisors near you.
Find advisor

Careers at PacRes>
We're growing. Grow with us.
Careers at PacRes reward excellence in mortgage banking.
Build a better tomorrow