< Back to News & Insights
Do ADUs Increase Home Value? Benefits to a 2nd Living Space
Kevin Beard,
Branch Manager Sr. Mortgage Advisor
April 25, 2022 — 5 min read
If you're looking to expand your home, you may have heard about accessory dwelling units (ADUs). These second living spaces are becoming more popular as the trend toward multi-generational living grows. So, what is an accessory dwelling unit (ADU), what are the different types of ADUs, does an ADU increase property taxes, and do ADUs increase home value? You have questions, we have answers--here ere are important facts to consider and decision points along the way.
What is an Accessory Dwelling Unit?
You may know them by a different name, but it all boils down to the same idea--having a small second living space on the same grounds or attached to a single-family house. Homeowners may build ADUs for different reasons, but the most common goals include earning income through rent or housing a loved one.
ADUs have most of the facilities needed for day-to-day living independent of the main house. Typically, they can't be bought or sold separately from the rest of the property.
Do ADUs Increase Home Value?
We can all use extra income, whether to cover increased costs of living or to save up for a vacation or retirement. In most cases, an ADU can help you do that by adding value to your property or providing rental income. However, before moving forward, you must determine the best type of ADU for your home: detached, attached, garage conversion, or interior conversion.
Types of ADUs
Detached ADUs are freestanding, fully functional, and come with their own utilities and entrance.
Attached ADUs share a wall with the primary house. The space may have its own utility hookups or share with the main residence.
Garage conversions are exactly what they sound like: a garage converted into an apartment space. The space may be detached or attached
Interior conversions are fully operational apartments, often in the basement or attic of the main house. The unit may not be visible from outside but functions independently.
Generating Rental Income
Ultimately, detached ADUs with multiple bedrooms and bathrooms are the most lucrative option when it comes to generating rental income. These earn some homeowners enough money to and other housing costs.
However, it's important to keep the rest of your property in mind when building and designing your accessory dwelling unit. If the new space appears out of place, it could decrease your property value or rental potential.
How Much Does It Cost to Build an ADU?
There are many factors that go into determining the total cost of an ADU, including how the space will be used and whether the unit is detached, attached, or a conversion of space.
Moreover, the cost of construction can vary depending on the builder and the cost of labor and materials in a given region. In addition to construction costs, you may have to pay design costs, utility connection fees, and building permits, which will vary depending on local laws.
Like any other home project, you have several financing options available. However, the amount of cash you need and what type of financing you opt for will depend on the specific features of your project.
Keep in mind, the big return on investment will come over the course of years. Building an ADU may come with large upfront costs, so make sure that you have a clear understanding of your finances before moving ahead.
Does an ADU Increase Property Taxes?
If you're considering adding an ADU to increase home value, then you're probably also wondering if having an ADU on your property will increase your property taxes. Your taxes will go up if anything has caused your property value to increase, such as adding an accessory dwelling unit.
When you construct an ADU, your property will be assessed for tax purposes. If you haven't had your home assessed in a while, don't worry--it will be a blended assessment, meaning they will assess the new unit and add it to the current value of your home.
Pro Tip: If you're planning to rent out your new space, you may want to consider wrapping it in an LLC. That way, you and your assets are protected if a mishap involving your ADU renter occurs.
How Do I Know if My Property Is Suited for an ADU?
Ultimately, many different kinds of properties are able to accommodate an accessory dwelling unit. Typically, it's best to have a flat surface space with few obstructions and minimum dimensions of 40' x 25'. If you aren't sure, contact a local builder or contractor to review your property.
Remember to Think Long-Term
So, do ADUs increase home value? It depends on your specific living situation. To make sure that an accessory dwelling unit is a good idea for you, keep these questions top of mind:
Do you plan to own your property long-term, and if so, do you want to manage renters for years to come?
What's the rental market looks like right now, and is there demand where I live?
If you're building a home for a loved one, is this a space that they can use for many years to come, not just the next few years?
Generally, it's a good idea to consult with a local home improvement expert before beginning your project. They'll help you understand ADU regulations in your area and figure out the best investment for your unique living space.
For everything else--whether you're interested in saving up or redecorating your existing home--we're here with resources to help. Get in touch with a Mortgage Advisor today to take a confident next step in your homebuying journey.
Categories
Archives
Recent Posts
Getting started >
You bring the dream. We'll bring the diagram.
There's a financing solution for just about every situation.
Let's go get it

What our clients say >
I felt like I was treated like family, great communication and helping me with any questions I had.
Testimonials

Getting started >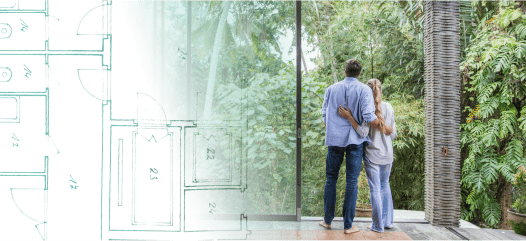 You bring the dream. We'll bring the diagram.
There's a financing solution for just about every situation.
Get started

Find an advisor >
Where does your sun shine? Find your local advisor.
Enter your city or state to see advisors near you.
Find advisor

Careers at PacRes>
We're growing. Grow with us.
Careers at PacRes reward excellence in mortgage banking.
Build a better tomorrow