< Back to News & Insights
5 Yard Alternatives to Grass
Chuck Waldrep,
Mortgage Advisor
July 10, 2020 — 4 min read
No matter where you live, you probably have a love-hate relationship with your yard. Sometimes it's too sunny or not sunny enough. Some days you hope for rain, and on others, you're hoping the rain stops. The truth is, grass is just tricky. It requires extensive care and consistent monitoring. The good news is, there are affordable and eco-friendly alternatives to grass that will look great and give you more time to relax instead of mowing.
Dry Creek Beds
Did you know that most homes built before the mid-1900s
don't have gutters
installed? That adorable older home with its unique charm and "fixer-upper" potential could end up being a financial nightmare without a proper system for rain run-off. In some arid climates, such as Arizona or Utah, even
recently built
homes don't have gutters. Excessive rain, even in short spurts, has the potential to cause basement flooding, moldy siding, or possibly cause sections of your lawn to wash away entirely. So, what's the solution? Try creating a dry creek bed! If you're looking to create a
Pinterest-worthy work of art,
you can buy rocks and install landscape fabric to prevent weeds from growing through. However, there are
cheaper guides
that walk you through a nearly-free way to redirect rain run-off and avoid needing grass over the entirety of your yard.
Moss
Using moss
as an alternative to grass traditionally works best in cool, wet climates, or backyard spaces with lots of shade and cover from the sun. Ideally, you would use the same type of moss(es) that are native to your region. Moss has many positives, such as no mowing, resiliency, and easy installation. In drier climates, moss may need to be occasionally watered, but in most cases, the moss will grow to about one inch with minimal care required. Though a tougher grass alternative, such as traditional turf, can withstand more foot traffic, moss can also hold its own.
Synthetic Grass (Turf)
Of all the grass alternatives covered, artificial turf is by far one of the most expensive options upfront. However, the yearly cost to upkeep the turf is minimal. There's no mowing, no fertilizer, and no stressing about dry patches. The national
average cost
for professional installation of artificial grass is about $2,000, and depending on the
type of turf
wanted, your location, the amount needed, etc. your costs could skyrocket. For DIY-savvy homeowners, laying the artificial grass down yourself could save you a pretty penny.
Rocks or Gravel
At first glance, this probably doesn't seem like the most attractive alternative to lush, green grass. On the other hand, it may be entirely out of the question to grow a healthy lawn, depending on where you live. Plus,
laying down rocks
is a simple solution with minimal upfront costs and limited upkeep required after installation. Adding pathways, birdbaths, or the occasional potted plant could take this simple solution into a sight to behold. Check out these options
on our Pinterest.
Flower or Shrub Beds
Flower beds don't have to be small strips along the side of your house. A shrub or flower bed featuring a variety of colorful flowers and vines could create the perfect look for your front or backyard. Though flower beds still require some water and weed upkeep, the money and time saved compared to a grass lawn could be worth it for you. A few space-filling plants to consider for large beds:
Creeping Thyme- drought-tolerant, red/purple blooms, and no trimming required
Clover- affordable, spreads quickly, and doesn't need much water
Chamomile- location versatility, soil-enriching, and fast-growing
Creeping Phlox- cascades well, comes in multiple colors, and grows 6 in. tall
Hosta- grows tall (some 2+ ft.), prefers fertile soil, blossoms all summer
One of the greatest things about being a homeowner is creating a yard space that you love!
Contact us today for a no-commitment consultation about homeownership!
Categories
Archives
Recent Posts
Getting started >
You bring the dream. We'll bring the diagram.
There's a financing solution for just about every situation.
Let's go get it

What our clients say >
I felt like I was treated like family, great communication and helping me with any questions I had.
Testimonials

Getting started >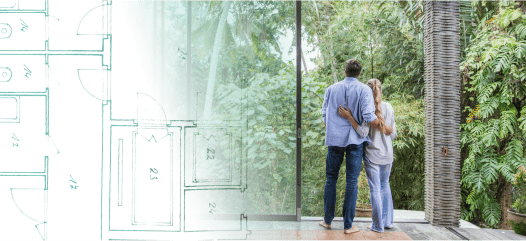 You bring the dream. We'll bring the diagram.
There's a financing solution for just about every situation.
Get started

Find an advisor >
Where does your sun shine? Find your local advisor.
Enter your city or state to see advisors near you.
Find advisor

Careers at PacRes>
We're growing. Grow with us.
Careers at PacRes reward excellence in mortgage banking.
Build a better tomorrow