< Back to News & Insights
Sayonara, Shiplap: Decorating Trends on the Way Out in 2023
Blake Rice,
Sr. Mortgage Advisor
January 23, 2023 — 7 min read
In large part, we've moved past the coronavirus pandemic, but we're still realizing some of its effects, including its impact on this year's decorating trends. With much of our time spent indoors over the past couple of years, we're continuing to embrace fresh, natural materials, such as stone, copper, concrete, and granite, according to experts. However, some trends that have been around for a while, including farmhouse décor, accent walls, and rose gold décor, are on the way out. So, what does that mean for you? If you want to sell your home, it's essential to keep your finger on the pulse of what's trending in interior design; if you recently purchased a house, keep these trends in mind if you're purchasing new furniture or home décor items.
Farmhouse Décor? No More!
Long revered for its homey and rustic vibes, farmhouse décor entered the spotlight starting in the mid-2010s, but now, it's one of the decorating trends on the way out this year—in particular, shiplap.
Things like sliding barn-style doors are details of the aesthetic that may stick around for a while, but many elements are overdone, like buffalo-check plaid. In general, experts say farmhouse is evolving into a more sophisticated, less cliché style. That means things like landscape oil paintings, authentic antiques, and primitive pottery.
If you still want to incorporate farmhouse décor, that's okay—here's how to make it work:
If you want to incorporate shiplap, it should only be used as it relates to a home's architectural style, according to experts. Get rid of signs that advertise fresh milk or eggs, point out where the market is, or furniture that's faux-distressed, and instead, try to think of ways to incorporate other elements that speak to your home's design and/or architectural attributes. Black hardware and window are also a big element of farmhouse décor, but they're becoming a bit tired unless it's in a home where the black is authentic.
RELATED: Our Favorite Fall Home Décor Trends for 2022
Are Accent Walls on Their Way Out?
Accent walls are still in, assuming you do them correctly, If you're designing an accent wall in your space, try to avoid solid bold colors. Instead, opt for a unique texture or subtle wallpaper in the same color tone as the rest of your space, according to design experts.
Having trouble determining which walls should and shouldn't be accent walls in your space?
In general, select the wall that's the first or most visible when you enter a room. You can also search for architectural clues, like a fireplace, built-in bookcases, or a reading nook—these will ensure that the accent wall is the intended focal point. Whichever wall you choose, be confident there's a reason to draw attention to it. If you can't find the right accent wall, consider the ceiling.
One More to Ignore? Rose Gold Décor
Rose Gold, a gentle shade of pink with the slightest hint of gold, first became popular in the 1920s—a century later, and it's back on top. In large part, this color became popular again because it's a natural middle point between something old and something new. With the word "rose" in its title, it also may also give the shade a romantic feel, which many retailers have used to their advantage.
So, is rose gold décor still a fashionable choice if you're decorating your home this year? While many people still love this hue, some designers feel that it has been overdone, making it outdated. One example is the Apple iPhone 6S—this turned out to be one of Apple's most popular launches, with 40% of all pre-orders for the rose gold model!
"Pink used to be scorned, but with the rise of millennials, it was almost seen as a cool thing because it's kind of ironic," according to Penny Goldstone with Marie Claire. "You're going back to a girly pink but you're wearing it ironically."
This year and beyond, design experts expect to see bolder shades of pink take center stage.
RELATED: How to Bring Positive Energy to a New Home
Other Decorating Trends on the Way Out This Year
Gray-Toned Wood Floors. These started to gain popularity around 2015 and have stayed trendy for many years—now, many homeowners feel the color just isn't right. Wood is beautiful because it's a natural material, and for many homeowners and designers, adding a gray wash over this natural material feels … well, unnatural. If you're renovating or considering a home project involving wood floors this year, skip this trend and go for something timeless.
Bright Brass. Brass, which typically comes in a brushed gold color, came back in a big way several years ago. Mostly, it showed up in lighting, hardware, and in things like furniture and kitchen faucets. Nowadays, this look is fading out in favor of unlacquered brass, which patinas with time and works best when paired with other finishes.
Designs That Don't Fit Where You Live. It's no longer on trend to decorate your home for an aesthetic that is different from where you're actually living, such as a modern farmhouse in Manhattan, or an English cottage in Los Angeles, according to designers.
Maximalism. Maximalism has …. well, maxed out. In 2023, people are coming around to the idea that less can be more if executed correctly. Plus, when you have less stuff, there's less to maintain, and in general, upkeep is easier.
"Who has time to vacuum layered rugs or arrange multiple comforters just to make the bed?" Shay Holland, star of HGTV's Unfinished Business, says. "Most people want to simplify life—not in a severe minimalistic approach but in ways that bring ease to the simple, daily rituals —like being able to sit on the sofa without first having to remove half a dozen throw pillows."
It's Your House—Design It How You Like!
Design trends come and go, but your style is unique to you. Remember that you don't have to invest time and money every year to stay on top of what's trending—it's your living space, and if you're comfortable, that's what's important.
RELATED: How Much Does It Cost to Furnish a House?
But what if you don't know what your style is?
No worries—find it by searching for inspiration in-person or online by creating a mood board. This may include a collection of textures, paint colors, furniture items, pieces of art, etc. It can be extremely detailed, or super simple—whatever works for you.
What if you're shopping for home décor on a budget?
The most important thing to remember when decorating a new living space is that it takes time. Keep this in mind as you start to decorate your home. Instead of rushing to get everything done at once, collect furniture and decor you love over time. This will make it much easier to stick to a budget. If you want to take it a step further, make it a rule that you're only allowed to only spend the money you've set aside for home decorating each month.
Want to Explore Home Finance Options?
No matter what home looks like, we're here to help along the way. Contact your neighborhood Mortgage Advisor to explore your options, or check out trending blogs here.
Categories
Archives
Recent Posts
Getting started >
You bring the dream. We'll bring the diagram.
There's a financing solution for just about every situation.
Let's go get it

What our clients say >
I felt like I was treated like family, great communication and helping me with any questions I had.
Testimonials

Getting started >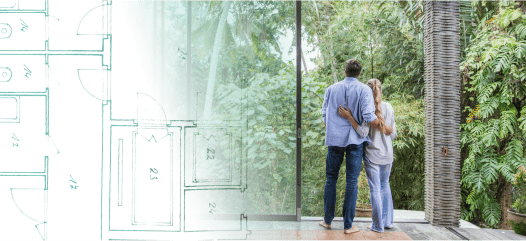 You bring the dream. We'll bring the diagram.
There's a financing solution for just about every situation.
Get started

Find an advisor >
Where does your sun shine? Find your local advisor.
Enter your city or state to see advisors near you.
Find advisor

Careers at PacRes>
We're growing. Grow with us.
Careers at PacRes reward excellence in mortgage banking.
Build a better tomorrow