< Back to News & Insights
Should I Use the Same Real Estate Agent to Buy and Sell My Home?
Ryan Arzner,
Branch Manager | Sr. Mortgage Advisor
January 31, 2022 — 6 min read
If you're new to the homebuying experience, or this is your first experience buying and selling a home at the same time, you may be wondering, "Should I use the same real estate agent to buy
and
sell my home?" This is a common question, and not a question with an easy "yes" or "no" answer. There are pros and cons to having just one agent complete both transactions. Let's compare below.
What's the Difference?
Before you decide whether to go with one agent or two, it's important to know the basics. A
real estate agent
is a professional who has obtained a real estate license to assist in the buying and selling of properties. In some cases, agents will have a specific focus, either listing or buying. However, some agents will work both sides of the transaction. A
listing agent
will:
Set the price for the property
List the property for sale
Market the property
Screen potential buyers
Sell the house
Assist with paperwork and closing
An experienced listing agent will be able to price your home based on market trends, your neighborhood, and other comparable properties. Their knowledge will also play a huge role in the strategy they use to market and sell your home. Another role of the listing agent is to help prep and
stage the home
for sale. Recent studies show that homes that are staged sell for
an average of 17% more
than their unstaged counterparts. A
selling agent
will:
Help buyers find financing
Assist buyers in their house hunting (and showings)
Make offers on behalf of the buyer
Negotiate the best deal possible
Assist with paperwork and closing
As you navigate the differences in these two roles, don't forget that there is also a difference between a real estate agent and Realtor. A
Realtor
is a real estate agent who is
also an active member of the
National Association of Realtors (NAR).
Agents within this organization are required to adhere to an extensive Code of Ethics, which can be an attractive quality to buyers who want to know the agent they're working with has their best interest in mind.
The Benefits of Using One Agent
If you happen to find an agent you trust to act as both roles on your behalf, then this may be the best move for you. Not only can you eliminate the stress of communication between multiple parties, but you may also be able to get a
discount on commissions
by using one agent. While this is no guarantee, you could potentially save money in the end. Other benefits include:
Coordinated closings
Comfort and trust in one person
Reduced stress
Cons of Using One Agent
There are plenty of upsides to using one agent, but there can also be negatives to sole representation. One of the biggest arguments against one agent is knowledge and experience. Just because you have an agent that can work both sides, doesn't mean that they have equal experience as both the selling and the listing agent. Another thing to keep in mind is that there is no guarantee that your agent will cut their commissions or end up being the best fit for your needs, once all is said in done. Working with just one person runs the risk of having everything fall through at once.
How to Pick the Best Agent for You
The first step toward owning the home of your dreams is knowing exactly what you can afford. This is why you should meet with a lender before doing
anything else
. Having a good idea of what homes are within your budget will save you time, and possibly money, in the end. If your lender is local, they'll most likely have a list of recommended real estate agents in your area. If not, then this is the time to reach out to friends, family, people on social media, etc. You can also use search engines to look for highly-rated agents, such as Zillow or Yelp. Once you've found a few agents that meet your basic standards, it's a good idea to interview them. This is your opportunity to learn more about the agent's style, personality, and willingness to work with you.
You'll want to hit on these topics while interviewing potential agents:
How long have you been in the business?
A young agent could have more time to focus on your transaction, but most real estate agents learn as they go. A seasoned agent will have experienced more speedbumps and will know how to avoid them.
Can you provide a list of references?
Any agent worth their salt will have a long list of references willing to speak on behalf of them.
How many clients are you currently representing?
Does your agent have time and the headspace that you need during the home buying and selling process? You don't want to be lost in the shuffle of clients.
Have you sold homes in my current neighborhood or at my desired listing price?
An experienced agent will have a good understanding of the neighborhood perks and benefits of your area.
What is your intended strategy to buy/sell my house?
As a buyer, you need to know how willing your agent is to spend time searching for a home that meets your needs. As the seller, it wouldn't hurt to know ahead of time what their average listing price to sales price ratio is.
How will often will you update me?
Communication is key in the home buying and selling process. Homes in popular markets will go fast and often
at or above asking price
.
How much do you charge?
Most real estate agent fees are negotiable. According to
TheBalance,
agents will typically charge from
1% to 6%
to represent one side of a transaction, either the seller or the buyer. A listing agent might charge 3.5% for herself and another 3.5% for the buyer's agent, for a total of 7%. Percentages will vary. Keep in mind, a top agent might charge more for their services. At the end of the day, it's up to you to decide how many agents you work with. There are pros and cons to each scenario, so do your research, ask around, and don't hire anyone you don't completely trust to get the job done.
Are you ready to become a homeowner but are sure where to start? We're here to help. Fill out a contact form today to talk with a local Mortgage Advisor.
Categories
Archives
Recent Posts
Getting started >
You bring the dream. We'll bring the diagram.
There's a financing solution for just about every situation.
Let's go get it

What our clients say >
I felt like I was treated like family, great communication and helping me with any questions I had.
Testimonials

Getting started >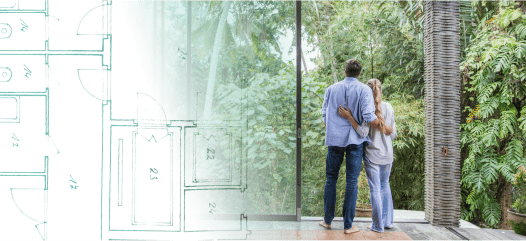 You bring the dream. We'll bring the diagram.
There's a financing solution for just about every situation.
Get started

Find an advisor >
Where does your sun shine? Find your local advisor.
Enter your city or state to see advisors near you.
Find advisor

Careers at PacRes>
We're growing. Grow with us.
Careers at PacRes reward excellence in mortgage banking.
Build a better tomorrow